Many of us are familiar with Maslow's Hierarchy of Need – only second to the physiological needs of food and water, is the need for Security and Safety. If the last few weeks have taught us anything, it's that uncertainty is the new normal. However, I still choose to look at the silver lining, this too shall pass and we will wake up to a new world when this is over.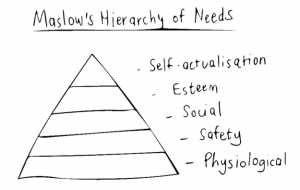 Some of us have adapted to the change of bringing our office into our homes well, but the abrupt change in our deep rooted behaviour comes with its own challenges. Working from home the last three weeks has taught me a lot and I wanted to share few of my learnings with you:
Manage your calendar effectively – As all of us have very recently started working from home it is easy to lose track of time and it becomes harder by the day to schedule meetings due to calendar mismatches. Here I would strongly recommend to book a meeting at least a day before and get the buy-in of all the participants. It may look like an overhead but the benefits are immense.
Pre-set agenda for meetings – As a startup a lot of meetings are brainstorming sessions where an array of topics is discussed, but in a virtual environment it is easy to get carried away and lose track of time. Thumb rule – always have a preset agenda, it prevents digression and improves productivity.
Have video meetings – I know I know it is highly debatable, how does it add value you ask? Well, we are social beings and are used to seeing people and interacting with them regularly. The information we capture by seeing things contributes more to our memory as compared to only listening to the information. I cannot stress how important it is to see people and maintain human interaction.
Exercise regularly – Most of us are confined in our homes, our brain is not designed to walk or move around a lot during working hours due to our sedentary office cultures. Repeated actions become habits, till now staying-in was equivalent to having a rest day. To ensure that you don't put on those few extra pounds, Exercise, because TINA.
Know when to stop – It is easy to go on and not move away from the laptop. When the environment is the same 24X7 it is easy to lose out on work-life balance. Define daily work hours to prevent exhausting yourself.
Be empathetic – There are a lot of challenges which come with WFH when the family is around and several things you took for granted suddenly become very apparent. Saying "I understand" goes a long way.
Setup a work desk & dress up – Set a separate work desk or area where you can work with focus, and dress up like you would to get to work, it tricks you brain into thinking you're at the office.
I hope you benefit from some of these pointers and stay sane during these times.
Take care and remember, we will emerge stronger together!
About the author
Mukul is a graduate of IIT, Roorkee. He started his career as a software engineer and now spends his days as a product manager. An avid reader of anything finance and technology with a sweet spot for ghazals. In his free time, he likes to promote financial literacy and education for all.